Medical Excellence JAPAN (MEJ)
Japan, which is becoming an ultra-aging society ahead of other countries, is aiming to develop and improve advanced medical technologies and services so that people enjoy long and healthy lives.
To contribute to the improvement of the quality of medical care abroad, the task force, in cooperation with MEJ and relevant ministries and agencies, promotes the overseas expansion of Japanese medical services.
MEJ is taking part in these activities as a secretariat to promote private sector initiatives and approach foreign countries as public-private cooperative projects. Furthermore, MEJ is promoting the invitation of international patients, who are seeking diagnosis and treatment in Japan, with appropriate medical travel assistance services in accordance with the guidelines of the task force.
Japan International Hospitals and Medical Travel Assistance
MEJ recommends Japan International Hospitals (JIH) which provide highly attentive medical care and advanced medical treatments for international patients in Japan. These hospitals have satisfied all the requirements of MEJ.
Before coming to Japan to receive medical treatments, international patients are expected to find a desired hospital and contact the hospital through medical travel support providers recommended by the hospital. These providers can offer various services of medical travel support such as matching between a patient and a hospital, arrangements of visa and transportation tickets, medical interpretation, etc.
MEJ particularly recommends Accredited Medical Travel Assistance Company (AMTAC), which has satisfied all the requirements of MEJ. AMTAC provides international patients with comprehensive medical travel support services. The services include consultation about your suitable hospital and medical travel expenses, arrangements of visa and transportation tickets, medical interpretation, suitable aftercare, etc. You will be able to make a medical travel safely with great outcomes.
JIH Website
JIH website provides the function to find your desired hospital from the list of Japan International Hospitals. Also, the recommended hospitals for each specialty are shown on the map of Japan. Furthermore, for each hospital, the specialties which accept international patients are indicated in the table. In the general information, the URL of the hospital's website by each language is shown. Click the URL to go to the hospital's website. Also, the medical travel assistance companies recommended by the hospital are shown. Click the company name to go to the company's website. In case that the medical travel assistance company is indicated as in-house, the hospital provides medical travel assistance services. Please contact the hospital from the website after confirming their instruction for international patients.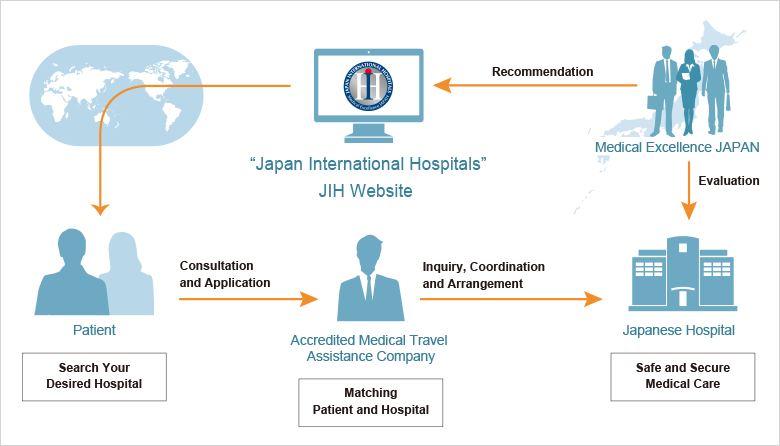 Inquiry
To inquire of us (Medical Excellence JAPAN) , click "Inquiry" and input your information and question. We will respond to you within five business days.
Please note that the inquiries by telephone or E-mail are not acceptable.